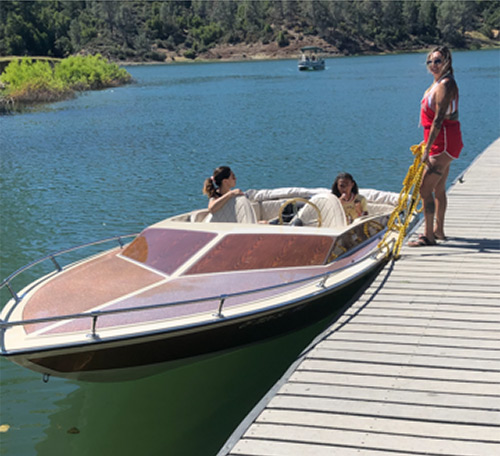 Dan Dorsett didn't want a boat, but his wife said if her uncle ever sells his 1978 Tahiti 21.5′ Mini Day Crusier, we are buying it! The boat was originally located at Precision Crane in Windsor, California. Dan's father in law bought it from them in 1983 and kept the boat until 1989 where he then sold it to Richard, the uncle of Dan's wife. Richard had the boat for 26 years until 2015 when he put it up for sale, wherein it was quickly sold to Dan and his wife and the restoration project began.
The first year they had the boat they ran it as they bought it. Not satisfied the next year they made some changes, adding a new carburetor, and a new distributor. Then the following year Dan had the boat completely sanded and a new clear coat put on. New gauges and new steering wheel helped make it shine more. Not one to leave the project half-done, once again the next summer he installed a new bimini top, new pump, hand painted the registration numbers and finally named the boat PINEAPPLE EXPRESS. The name PINEAPPLE EXPRESS came from the grandmother of Dan's wife. Grandma lived with Richard the uncle and grandma oh so loved pineapples as she was born in Hawaii, so Dan and his wife paid fitting tribute by naming the boat after her as she passed away shortly after they bought the boat.
Last year, like many boaters, Dan decided he WANTED TO GO FASTER – and look good while doing it. The stock engine was removed, as were the interior and fuel tanks. The tanks were boiled and cleaned and updated with 3/8 pick ups from factory. The refurbished tanks were then fiberglassed in place with custom removeable mounts. All the upholstery was redone with cream diamond tuck, and new marine grade carpet was installed. The new engine was built to 500 hp with a new carburetor, MSD marine distributor and new exhaust risers were added with an update to 4" chrome exhaust tips. The entire boat got rewired and added dual batteries with blue sea shut off switches, ACR automatic charge relay and a ground bus bar
To say Dan likes his boat might be an understatement. Fun and fast for how big it is – Dan and his wife were about record a GPS speed of 70 mph at Lake Sonoma – with the engine still only having 8 hours on it and still breaking her in. Dan credits his local performance parts suppler CP Performance as a huge help getting him the right parts he needed to finish this project.